Sure, flower choices change over time -- a new trend hits, you change seasons for your wedding date, it turns out a box of Benadryl can't help you when you're near your dream flowers -- but I still intend on showing you some of my ideas.
1) My sorority flower: The lovely purple iris. I may not be as close to all my D Phi E sisters out there, but I still have Deepher pride. Delta Phi Epsilon is like a badge of womanhood -- and when do you feel more like a woman than on your wedding day? I'd like a little piece of that on my W-day.
A bouquet white purple irises and winter tulips

2) Peonies. They're like roses, but bigger, fuller, lusher, better.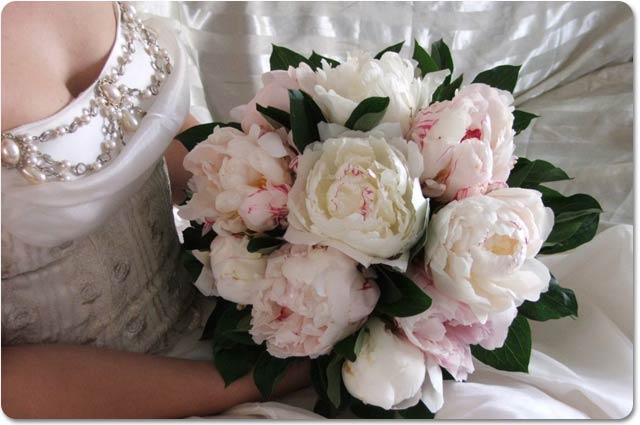 A white and blush peony bouquet
3) Roses. Trite? Maybe a little, but my great-grandfather grew prize-winning roses in Southern Ontario and they are one thing I actually remember from my childhood when I visited his farm. I can't even remember what he looks like; he died when I was ten or so (also the only time I ever saw my father cry). I think that it would be best to mix the roses with another flower.


4. Of course, if I had my way, I'd have tulips. They're my favourite. I'm like a kid in a candy store when I go to the annual tulip festival. But they only bloom in spring, and they don't bloom for long. I have actually inquired as to the cost of having them specially grown to bloom in fall, and I don't want to pass on the cost. I will cry.